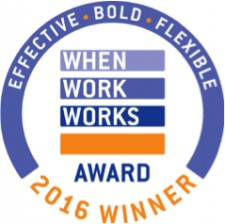 Portland, Oregon, November 21, 2016 (Newswire.com) - The American College of Healthcare Sciences (ACHS) has been selected as a 2016 When Work Works VET Spotlight organization. This designation recognizes ACHS's commitment to creating unique, innovative, and effective accredited, online holistic health programs that support the goals of veterans and their families as they transition to the civilian workforce.
ACHS is one of only 11 VET Spotlight organizations selected and has been featured in a special When Work Works blog highlighting the importance of assisting veterans in their workplace transition and the tremendous benefits of hiring veterans, including discipline, life experiences, cultural exposure, team mentality, and adaptability, among others.
This is the inaugural year of the VET Spotlight (Veteran's Employment Transition) recognition, which was launched by SHRM and Families and Work Institute.
Link to article: http://www.whenworkworks.org/blog/veterans-bring-valuable-skills-to-the-workplace
"We're incredibly proud to have been named to the VET Spotlight list," says Erika Yigzaw, ACHS chief strategy officer. "We are so thankful for the service our veterans and their spouses and families have given and are honored that they have chosen ACHS to support them as they transition into a new life path. There is exciting opportunity in the holistic health and integrative medicine fields for people who clearly exhibit such dedication and passion for their work and communities. If we can help our veterans to meet their long-term goals, whether it's a personal path to wellness or as a holistic nutrition consultant for their community or as a wellness coach for other veterans, we're there!"
ACHS was previously honored with a 2016 When Work Works Award for its use of effective workplace strategies to increase business and employee success. This award is part of the national When Work Works project administered by the Families and Work Institute (FWI) and the Society for Human Resource Management (SHRM) and recognizes employers of all sizes and types in Oregon and across the country.
Link to learn more: https://www.achs.edu/news/american-college-healthcare-sciences-recognized-exemplary-workplace-practices​
For more information about this press release, call 800.487.8839 or email publicrelations@achs.edu. For more information about ACHS's commitment to military students, Veteran's Benefits, or other military related questions, email achs@achs.edu or visit https://www.achs.edu/military
Source: American College of Healthcare Sciences
Share: